The restaurant sector has experienced a notable evolution lately: the transition towards an exclusively digital payment system. This development encompasses eateries choosing to only take electronic forms of payment like credit cards, debit cards, and mobile payment applications while eliminating cash from their accepted payment options. This change is propelled by various considerations, including improved productivity, security issues, and the extensive use of digital technology.
Overview of the shift towards cashless transactions in 2023
The year 2023 witnessed an exponential surge in the trend toward cashless dining establishments. This evolution was spurred on by the continual digital metamorphosis within the business arena, shifts in consumer habits, and the effects of the COVID-19 pandemic, which underscored the merits of contact-free payments. Nonetheless, this transition towards cashless operations has sparked debate due to worries about access, potential bias, and legal complications. In the subsequent sections, we will further explore the factors contributing to this development, the pros and cons of transitioning to cashless practices, and the legal and societal consequences of this change.
Reasons for the Cashless Transactions Trend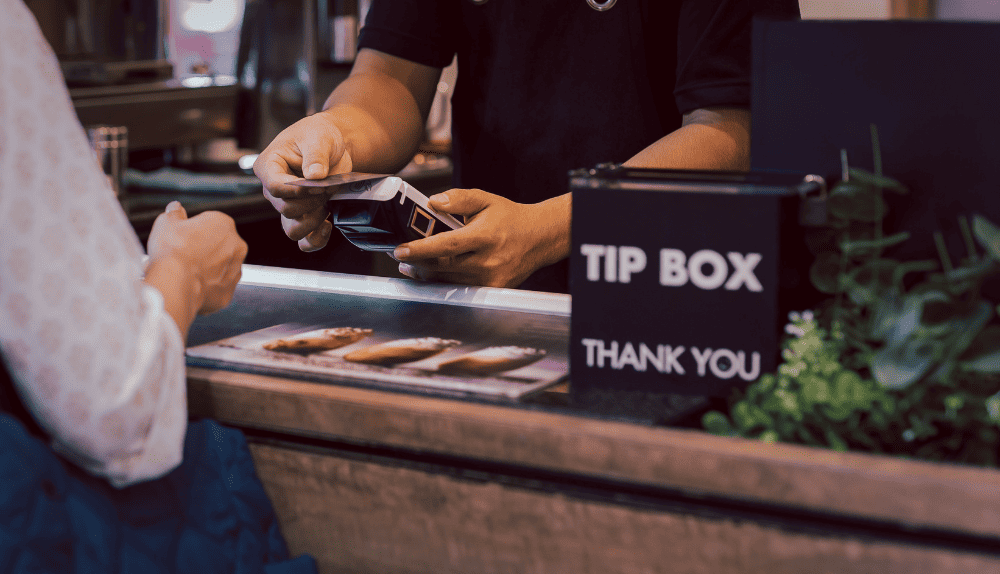 Increased Efficiency
Faster transactions and shorter lines
The shift towards cashless restaurant transactions is largely driven by the desire for increased efficiency. Digital transactions, whether via credit card, debit card, or mobile payment apps, are typically processed faster than cash transactions. This speed is beneficial in a restaurant setting, where long lines can deter potential customers, and slow service can negatively impact the dining experience. By eliminating the time spent making changes and counting cash, restaurants can serve more customers in less time, improving overall efficiency.
Easier accounting and tracking of transactions
Transitioning to a cashless model can enhance transaction speeds and streamline restaurant financial management. Every digital payment creates an instantaneous record, simplifying the process of sales tracking, tax computation, and overall financial management. This can lighten the administrative load on restaurant personnel, enabling them to concentrate more on delivering outstanding food and service. Additionally, it reduces the potential for mistakes that can arise with manual cash transactions, such as inaccurately counting change or misplacing records of cash sales.
Safety Concerns
Reduction in theft and crime rates
Safety is another significant factor driving the cashless trend in restaurants. By not handling cash, restaurants become less attractive targets for theft. This applies to external threats, such as burglaries, and internal threats, such as employee theft. Reducing crime rates saves businesses money and creates a safer working environment for employees, boosting morale and productivity.
Elimination of risks associated with handling large amounts of cash
Handling large amounts of cash can pose various risks. Cash can be lost due to mishandling or damaged due to unforeseen incidents like fire or water damage. By going cashless, restaurants eliminate these risks. This provides peace of mind for restaurant owners and allows them to focus on other aspects of their business, such as improving their menu or service.
Technological Advancements
Growth and acceptance of digital payment methods
The widespread growth and acceptance of digital payment methods have significantly influenced the cashless trend. As more and more consumers embrace technologies like mobile payment apps and contactless cards, businesses, including restaurants, are adapting to meet their customers' changing preferences. This shift is not just about keeping up with the latest technology; it's about providing customers with a convenient and seamless payment experience.
Integration with modern point-of-sale systems
Contemporary point-of-sale (POS) systems are a significant technological development promoting the transition towards cashless transactions. They typically feature embedded payment processing capabilities that accommodate various digital payment options. However, their utility extends beyond just facilitating payments. Today's POS systems often have supplementary tools such as stock management, sales analytics, and client relationship administration. These enhancements have made POS systems highly sought after within the restaurant industry, thereby propelling the move towards cash-free operations further.
Benefits of Going Cashless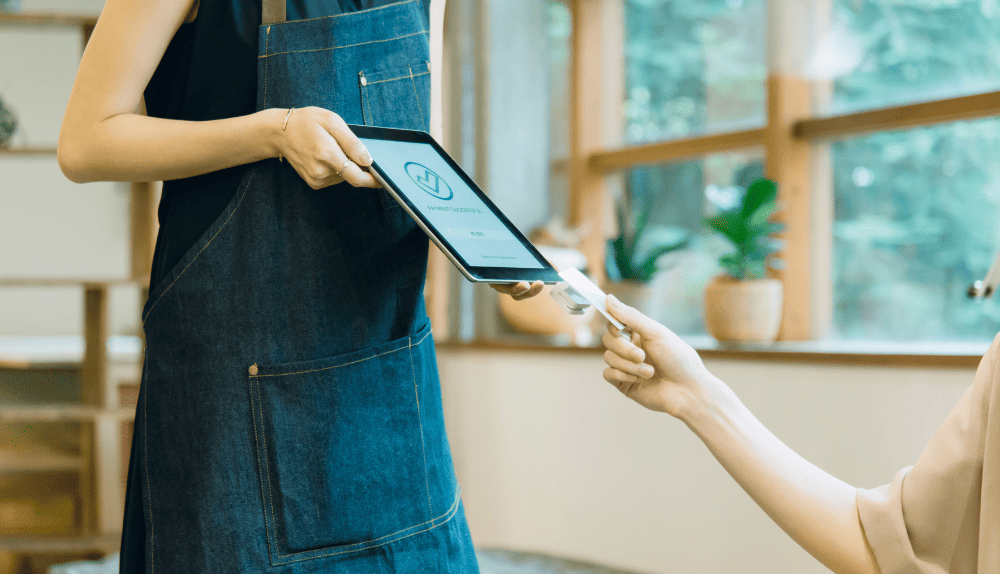 Operational Efficiency
Streamlined transactions and faster service: Going cashless can significantly speed up transactions, making them three times faster than traditional cash transactions. This efficiency can lead to improved customer satisfaction and increased sales volumes.
Easier accounting and financial management: Cashless transactions can simplify bookkeeping tasks and control operational costs, making financial management more efficient. With digital transactions, businesses can easily track and manage their finances, reducing the time and resources spent on manual accounting.
Safety and Security
Lower risk of theft and robbery: Cashless transactions eliminate the need for physical cash, reducing the risk of theft and robbery. Cashless businesses can protect their working capital by eliminating the risk of losing or stealing cash.
Increased safety for employees: In a cashless business, employees are not required to handle cash, reducing the risk of theft and ensuring their safety. Furthermore, all transactions are traceable, providing an additional layer of security.
Future-Proofing the Business
Keeping up with technological advancements: Adopting cashless transactions can help businesses stay competitive and relevant as the world moves towards digitalization. It allows businesses to keep up with the latest payment technologies and trends, ensuring they are included.
Catering to the growing number of customers preferring cashless transactions: With the increasing preference for cashless transactions, businesses adopting this trend can attract a wider customer base. This improves customer experience and opens up new growth opportunities.
Challenges and Controversies of Going Cashless
Exclusion of Customers
Potential discrimination against customers without access to digital payment methods: The transition to a cashless society can exclude certain groups, particularly those without access to digital payment. This includes the elderly, the unbanked, and those without reliable internet access, creating a digital divide in society.
Impact on certain demographics, such as the unbanked or underbanked population: The move towards cashless transactions can disproportionately affect the unbanked and underbanked populations. These individuals rely on cash for transactions and may face difficulties in a cashless society.
Legal and Regulatory Issues
Laws and regulations prohibiting cashless businesses in certain areas: Legal and regulatory challenges are associated with going cashless. Some jurisdictions have laws and regulations prohibiting businesses from refusing cash payments, creating a legal barrier for businesses wanting to go cashless.
Ongoing debates and legislative actions related to cashless operations: The move towards a cashless society has sparked debates and legislative actions. These discussions revolve around privacy, security, and the potential for increased economic inequality. As a result, businesses must navigate these complex legal landscapes when considering going cashless.
Case Studies of Cashless Restaurants
Success stories of restaurants that have gone cashless: Many restaurants have successfully transitioned to cashless operations. For instance, the popular Austin eatery Bird Bird Biscuit went cashless after a break-in at its Manor Road location. The move towards cashless transactions has allowed them to improve operational efficiency and security. Similarly, Humblemaker's Coffee Shop has found that going cashless has simplified their accounting and reduced theft risk.
Challenges faced and solutions implemented: Going cashless also presents challenges despite the benefits. One of the main issues is the potential exclusion of customers who do not have access to digital payment methods. To address this, some restaurants have implemented solutions such as offering prepaid cards that customers can load with cash. Another challenge is the legal and regulatory landscape, with some jurisdictions prohibiting businesses from refusing cash. Restaurants navigating this issue have had to stay informed about local laws and regulations and adjust their policies accordingly.
Reflection on the current State of Cashless restaurants in 2023
The trend towards cashless restaurants has continued to grow in 2023, with many establishments embracing this change. Fast-casual restaurant Sweet Green, for instance, has gone cashless in all its locations nationwide, excluding Massachusetts, due to local regulations. Similarly, Gadzooks Enchiladas and Soup stopped accepting cash at its Valley locations a year ago.
However, the move towards a cashless society has its challenges. Some cities like New Jersey, Philadelphia, and San Francisco have banned stores and restaurants from going cashless, citing concerns about accessibility and discrimination against customers without access to digital payment.
Despite these challenges, the benefits of going cashless, such as improved operational efficiency and increased safety, have made it an attractive option for many restaurant and bar operators.
Speculation on the future of the cashless trend in the restaurant industry
The future of the restaurant industry appears to be increasingly cashless. Experts predict this trend will grow as more restaurants see the benefits of implementing this tech-fueled system. Small and mid-sized businesses are leading the shift towards cashless operations, with restaurants at the forefront of this movement.
As we move towards a more digital world, even more restaurants are expected to adopt cashless systems. This is not only due to the operational efficiencies and security benefits but also changing consumer preferences. More customers are becoming comfortable with digital payments, and businesses must adapt to meet these expectations.
However, it's important to note that transitioning to a fully cashless society may take work. There will likely be ongoing debates about accessibility and discrimination, and businesses must find ways to ensure that their services remain inclusive. Furthermore, the legal and regulatory landscape will continue to evolve, and restaurants must stay informed about these changes.
In conclusion, while the future of the restaurant industry is likely to be increasingly cashless, it will also require businesses to navigate various challenges and ensure that they are meeting the needs of all their customers.
Final Thoughts
In 2023, the restaurant industry saw a significant shift towards cashless operations, propelled by operational efficiency, enhanced security, and the changing preferences of consumers favoring digital payments. However, this transition has challenges, including potential accessibility issues and discrimination against those without access to digital payment. Legal and regulatory hurdles are also challenging, as some jurisdictions prohibit businesses from refusing cash. Despite these obstacles, the advantages of going cashless have made it an appealing choice for many restaurants. As we look ahead, this trend is expected to continue, with an increasing number of restaurants adopting cashless systems. However, these establishments must ensure their services remain inclusive and accessible to all, even as they navigate this digital transition.