Near Field Communication, commonly called NFC, is a wireless communication protocol that allows two electronic devices, typically smartphones, laptops, tablets, other devices, and a terminal, to establish communication by bringing them within 4 cm (1.6 in) of each other. This contactless technology enables users to perform simplified transactions, data exchange, and wireless connections.
Let us understand more about NFC and the most common ways to accept NFC payments.
Origin and Development of NFC: NFC was initially developed in 2002 by Philips and Sony to provide a wireless data communication system that was easy to use and reliable.
Mechanism of NFC: NFC operates at 13.56 MHz and transfers data at up to 424 kbit/s. NFC is compatible with existing passive RFID (Radio-frequency identification) infrastructures.
Types of NFC Communication: There are three modes of operation for NFC – reader/writer (e.g., for reading tags in NFC posters), peer-to-peer (e.g., for file transfers), and card emulation (e.g., for making payments).
 How NFC Payments Work
NFC payments use a wireless connection to transmit information from an NFC-enabled device to an NFC reader.
Device Setup: The first step to using NFC payments is to have an NFC-enabled device. For mobile payments, this often involves adding credit or debit card information to a mobile wallet's app, such as Apple Pay or Google Pay.
Transaction Initiation: When customers are ready to purchase, they open their mobile wallet app and select the card they wish to use. The app might ask for authentication, like a fingerprint or passcode.
Connection Establishment: Customers hold their NFC-enabled device near the payment terminal or card reader. NFC technology uses radio waves to connect the two devices once they are within a few centimetres of each other.
Data Transmission: Once the connection is established, encrypted payment information is transmitted from the mobile device to the payment terminal.
Transaction Confirmation: The payment terminal sends the information to the payment processor to process the transaction. Once approved, the terminal will send a signal indicating the completion of the transaction.
The benefits of using NFC Payments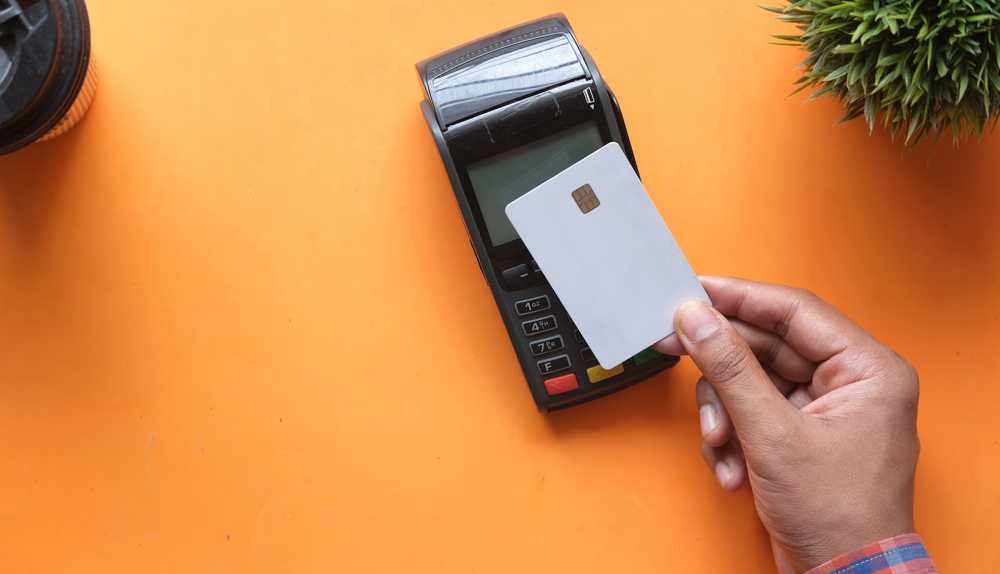 NFC Payments provide consumers with a quick, handy, and streamlined method to purchase goods and services. By enabling transactions with just a tap of a smartphone or wearable device, they simplify the checkout process and offer a plethora of benefits for both businesses and consumers, such as:
Speed and Convenience: NFC payments are faster than traditional credit or debit card payments and cash transactions. They require no physical contact and do not necessitate entering a PIN, resulting in a more streamlined checkout process.
Security: NFC payments are secure as they use encryption to protect the customer's payment information. Moreover, the customer's card number is never shared with the merchant, reducing the risk of card information theft.
Versatility: NFC payments are not limited to mobile wallets. Contactless cards, key fobs, and NFC-enabled wearable devices can also be used.
Hygienic: In the wake of the COVID-19 pandemic, contactless payments have been favoured due to their hygienic nature, avoiding physical contact between individuals and shared devices.
Integration with Loyalty Programs: Many mobile wallets allow customers to link their loyalty program information to their payment app, automatically earning points or rewards with each purchase.
Significance of NFC in today's digital payment systems
In today's increasingly digital world, NFC has revolutionized how payments are made, increasing convenience and efficiency. Following are some of the significance NFC offers:
Contactless Payments: NFC has significantly promoted contactless payments, especially during the COVID-19 pandemic, where contactless transactions have become the norm.
Speed and Convenience: Transactions via NFC are quick and straightforward, requiring users to bring their NFC-enabled device close to the terminal.
Security: NFC payments are often considered more secure than traditional credit cards. The information is encrypted, and the user must confirm the transaction (e.g., through smartphone fingerprint or face ID).
Broad Adoption: Most of today's smartphones and many credit cards now come equipped with NFC technology. In addition, many retailers, public transport systems, and even vending machines now accept NFC payments.
Integration with Mobile Wallets: NFC technology underlies the functionality of most major mobile wallets like Apple Pay, Google Pay, and Samsung Pay, which allows users to make digital payments straight from their phones.
Most Common Ways to Accept NFC Payments
As the world continues to adopt digital transformation, Near Field Communication (NFC) payments are becoming increasingly popular for convenience, speed, and security. Following are the most common ways businesses can accept NFC payments, including:
Mobile Wallets
Mobile wallets represent a convenient and innovative approach to financial transactions, allowing users to store payment information on their smartphones in a secure and user-friendly application.
Apple Pay
Apple Pay is a digital payment system and mobile wallet designed by Apple Inc., exclusively for use on its devices. It lets users make contactless payments using their iPhones, Apple Watches, or iPads.
To use Apple Pay, users must add their credit, debit, or prepaid card information to the Wallet app on their Apple devices. During a transaction, the user authenticates the payment using Touch ID, Face ID, or passcode and holds the device near a contactless payment terminal. The transaction employs a device-specific number and a unique transaction code for security, and card details are never shared with merchants.
Google Pay
Google Pay, created by Google, is an automated digital wallet and online payment system engineered to streamline in-app purchases and enable contactless transactions on electronic devices. Google Pay enables users to execute payments using Android smartphones, tablets, or wearable devices that utilize Near Field Communication (NFC) technology.
To use Google Pay, users need to add their credit, debit, or prepaid card information to the Google Pay app on their Android devices. During a transaction, the user unlocks their device and holds it near the contactless payment terminal. The transaction is secure as Google Pay employs a virtual card number. to represent the user's account information and card details are never shared with merchants.
Samsung Pay
This payment service is provided by Samsung Electronics and enables users to make secure transactions using compatible Samsung devices, including smartphones and other Samsung-produced devices.
One distinct feature of Samsung Pay is its compatibility with NFC and Magnetic Secure Transmission (MST) technology. While NFC communicates with contactless payment terminals, MST can mimic a physical card swipe, allowing Samsung Pay to work with older point-of-sale systems that do not support NFC.
To use Samsung Pay, users must first save their credit, debit, or prepaid card information on the app. When making a payment, users must authenticate the transaction using a fingerprint, PIN, or iris scan before holding the device near the payment terminal.
Visa PayWave
Visa payWave is a contactless payment technology featured on Visa's credit and debit cards. It allows cardholders to make purchases by simply waving their card in front of a secure reader at the point of sale instead of swiping inserting their card into the terminal. This technology is based on NFC, which securely transmits payment data to the terminal.
To use Visa payWave, cardholders need a Visa card with payWave technology. When purchasing a business that supports contactless payments, the customer waves their card close to the terminal. There's no need to enter a PIN for smaller transactions, which can vary depending on the country, making this a quick and convenient payment method.
Mastercard PayPass
Mastercard PayPass is a contactless payment method that leverages NFC technology. It offers cardholders a more straightforward transaction experience by allowing them to tap their payment card or other payment devices, like a phone or key fob, on a point-of-sale terminal reader. This process eliminates the need for swiping or inserting a card, making transactions quicker and more convenient.
To use Mastercard PayPass, customers need a Mastercard with PayPass technology. Customers can tap their card against the terminal at a business that supports contactless payments. For smaller transactions, there is no need of signing receipts or entering a PINs, expediting the transaction process.
Contactless Credit and Debit Cards
Contactless cards, or "tap and go" cards, are credit and debit cards that utilize NFC technology to make secure and quick transactions. These cards contain a chip and antenna that transmit payment details wirelessly, eliminating the need to insert or swipe the card at the point of sale terminal.
Cardholders tap their card on the contactless-enabled terminal to make a payment. No PIN or signature is typically required for lower-value transactions, making the payment process faster and more convenient. Additional authentication, like a PIN, might be needed for higher-value transactions for security purposes.
The symbol for contactless technology looks like a sound wave and can be found on the card and the payment terminal.
Accepting Payments through Contactless Cards
To accept contactless card payments, businesses require an NFC-enabled point-of-sale terminal. If NFC functionality is unavailable, they should contact their payment processing provider to enable this. Furthermore, it is essential that their payment processor supports contactless payments, and this support should be confirmed even though most significant processors already offer this service.
Businesses must inform their customers that they accept contactless payments, which can be achieved by displaying the tap and go symbol at the point of sale and on the business's website. The transaction process is similar to conventional card payments, where customers tap their contactless card on the terminal to pay. This process is generally faster as no PIN or signature is needed for lower-value transactions. Like traditional card transactions, returns and refunds involve the customer providing their receipt, followed by the cashier processing the refund to the card.
NFC Payment Readers
NFC payment readers, or contactless payment terminals, enable businesses to accept contactless payments from NFC-enabled cards, smartphones, or other wearable devices. They use NFC technology to communicate wirelessly with a payment device within a very close range, typically a few centimetres.
These payment terminals are equipped with a chip reader to process the encrypted information from the payment device and communicate with the payment processor to authorize the transaction.
Types of NFC Payment Readers
NFC Payment Readers are essential for businesses to process contactless payments quickly and efficiently. These devices, which come in various forms and sizes, enable transactions by communicating with NFC-enabled devices like smartphones or contactless cards. The different types of NFC Payment Readers are:
Countertop Terminals: These are typically found in retail settings where the customer comes to a cashier or counter to pay. They are often combined with a PIN pad for transactions that require authentication.
Portable Terminals: These are wireless devices that can be taken to the customer, making them suitable for restaurants, cafes, or businesses that prefer to bring the payment device to the customer.
Mobile Card Readers: These small devices can be connected to digital via Bluetooth and work with a mobile app to accept payments, making them perfect for businesses on the go, such as pop-up shops or market stalls.
Unattended Payment Terminals: These are designed for self-service environments, such as vending machines, ticket kiosks, or gas stations, and allow customers to pay without staff assistance.
Setting up and Accepting Payments through NFC Readers
To set up and accept payments through NFC readers, businesses typically follow these steps:
Acquire an NFC Reader: The business must first acquire a contactless payment terminal. This can often be obtained from their payment processing provider, either as a rental or a purchase.
Set up the NFC Reader: The NFC reader needs to be set up, which may involve connecting it to the business's network, linking it to its payment processing account, and configuring any necessary setting. The process depends on the type of NFC reader and payment processor.
Educate Staff: Staff members should be trained to use the NFC reader, including how to process payments, issue refunds, and troubleshoot common issues.
Accept Payments: The business can accept contactless payments once the NFC reader is set up. Customers hold their payment devices near the reader to make a payment.
Manage Transactions: Businesses can monitor transactions, issue refunds, and check their payment history through their payment processor's merchant portal or app.
Accepting payments through NFC readers can help businesses provide a fast, convenient, and secure payment method, meeting the growing customer demand for contactless payments.
Integrated Point-of-Sale (POS) Systems
Integrated Point-of-Sale (POS) systems are comprehensive solutions that combine multiple functionalities, including payment processing, inventory management, customer relationship management, sales reporting, and more.
These systems provide hardware and software that work together seamlessly. The hardware usually includes a cash register, receipt printer, card reader, and sometimes an NFC reader for contactless payments. The software can consist of cloud-based applications that enable real-time sales, inventory, and customer data monitoring.
Integrated POS systems are designed to streamline the operations of a business, improve efficiency, reduce errors, and provide insightful data for decision-making and can be tailored to specific needs of divergent businesses, from retail stores and restaurants to salons and spas.
How do POS systems accept NFC payments?
Most modern integrated POS systems can accept NFC payments as they come with built-in NFC readers or have compatible add-ons available. Here's how they typically process NFC payments:
Equipment: The POS system includes an NFC-enabled card reader. An external reader compatible with the system can often be connected if not built-in.
Software Support: The POS software must support NFC payments. This usually includes processing the payment, recording the transaction in the sales data, and updating the inventory if necessary.
Transaction Process: When customers are ready to pay, they hold their NFC-enabled card or device near the card reader. The reader picks up the payment information wirelessly, and the POS system processes the payment just like a typical card transaction.
Receipts: Once the transaction is approved, the POS system can print a receipt or send a digital one to the customer, according to the customer's preference.
Sales Data: The POS software records the transaction in the business's sales records, providing real-time data on sales performance.
By using an integrated POS system that accepts NFC payments, businesses can offer a convenient payment option for customers while also benefiting from the comprehensive features of the POS system to manage their operations effectively.
Wearable Devices
NFC-enabled smartwatches are wearable devices incorporating NFC technology, enabling various functions, including contactless payments. These smartwatches work similarly to smartphones in making contactless payments and offer the convenience of making transactions directly from the wrist without needing a card or phone.
Smartwatches from several manufacturers, including Apple, Samsung, and Fitbit, support NFC payments through digital wallets like Apple Pay, Samsung Pay, and Google Pay. The user needs to connect their credit or debit card information to their digital wallet on the smartwatch, and they can then make payments at NFC-enabled payment terminals by simply holding their watch near the reader.
Implementing NFC Payments in Business
The necessary steps and considerations involved in successfully integrating NFC payments into your business operations are:
Necessary Hardware and Software Requirements
Businesses must have the hardware and software to implement and operate NFC payment systems successfully. These tools are crucial not only to the seamless execution of transactions but also to the security and efficiency of the payment process. The required essential hardware and software are:
NFC-enabled POS Terminal: An essential hardware requirement is an NFC-enabled POS terminal or card reader that can facilitate contactless transactions. Many modern terminals already have this built-in functionality, but older models may need an upgrade or an external reader.
Integrated POS System: An integrated POS system with NFC capabilities can be a powerful tool for businesses seeking to streamline operations. It processes payments, tracks sales, manages inventory and often includes customer relationship management (CRM) features.
Software Compatibility: Ensuring the business's POS software is compatible with NFC payments is crucial. This software must be able to handle the transaction process and integrate these transactions into the sales record seamlessly.
Partnerships with Payment Processors or Merchant Service Providers
Establishing partnerships with payment processors or merchant service providers is crucial for businesses looking to accept digital and contactless payments like NFC. These partnerships enable enterprises to offer their customers various payment options, increase operational efficiency, and ensure the secure handling of sensitive payment data.
Payment Processor Support: A business must partner with a payment processor that supports NFC payments. While most significant processors support this technology, businesses should confirm this before signing a contract.
Merchant Accounts: Depending on the structure of their operations and the volume of their transactions, businesses may need to open a merchant account – a particular type of bank account that allows them to accept electronic payments.
Negotiating Fees: Transaction fees for NFC payments can vary among processors. Businesses should take time to understand these costs and negotiate the best rates.
Security Considerations
As businesses embrace digital payment technologies like NFC, it's crucial to ensure the security of these transactions. The various security considerations that businesses need to keep in mind while implementing and using NFC payment systems are:
End-to-End Encryption: NFC payments should be encrypted from the point of transaction to the payment processor. This helps ensure that payment information remains secure during transmission.
Tokenization: Many NFC payment systems use tokenization, which replaces sensitive card information with unique identification symbols (tokens) that retain all the essential data without compromising security.
Fraud Detection: Partnering with a payment processor that provides robust fraud detection tools can help businesses identify and prevent fraudulent transactions.
PCI Compliance: Businesses must comply with the Payment Card Industry Data Security Standard when operating card transactions, including NFC payments. This may involve regular security audits and implementing recommended security controls.
Customer Education: Businesses can play a part in security by educating customers on the safe use of NFC payments, such as keeping their devices secure and regularly monitoring their account statements for any irregularities.
Implementing NFC payments can help businesses stay competitive and meet customer demand for fast and convenient payment options. However, careful planning is needed to ensure a smooth rollout and maintain high levels of security.
Potential impact on business and consumers
The adoption of Near Field Communication (NFC) payments carries significant potential impacts for both businesses and consumers. This technology influences operational efficiency, customer experience, and transaction security, ushering in a new era of convenience and innovation in the financial landscape. The following are some of the NFC impacts on businesses and consumers:
Impact on Business
The adoption of NFC payments can significantly influence businesses across various aspects. From improving transaction efficiency to enhancing customer experiences, NFC technology's impact is transformative and reshaping the way businesses operate in today's digital economy. The specific ways NFC payments are influencing businesses are:
Increased Efficiency: NFC payments are quick and speed up the checkout process, helping to reduce queues and improve overall operational efficiency.
Enhanced Customer Experience: Offering NFC payments can enhance the customer experience by providing a fast, simple, and convenient payment method.
Competitive Advantage: Businesses that adopt NFC payments can gain a competitive edge, especially if their competitors haven't yet adopted this technology.
Access to Data: NFC payments, particularly when integrated into a POS system, can provide businesses with valuable data about customer buying habits, helping to inform marketing strategies and business decisions.
Reduced Cash Handling: With increased NFC payments, businesses may handle less cash, potentially reducing the risks and costs associated with cash handling.
Impact on Consumers
It's important to understand the implications not only for businesses but also for consumers. The impact of NFC on consumers are:
Convenience: NFC payments offer consumers quick and easy to pay for merchandise and services without cash or physical cards.
Versatility: NFC technology allows consumers to make payments using various devices, including smartphones, wearable devices, and contactless cards.
Security: NFC payments typically use encryption and tokenization technologies, making them a secure payment method. If an NFC connected device is lost or stolen, consumers can remotely lock or erase their digital wallets, offering a level of security that surpasses traditional wallets.
Increased Adoption of Technology: As more businesses accept NFC payments, consumers are encouraged to adopt and familiarize themselves with the technology, potentially leading to an increased usage of digital wallets and other NFC-enabled services.
Contactless Interaction: In a post-pandemic world, where contactless interactions are preferred for health and safety reasons, consumers can benefit from the touch-free nature of NFC payments.
Final thoughts
The adoption of NFC payments can positively impact businesses and consumers, offering increased efficiency, improved customer experience, and a secure and convenient payment option. However, businesses must carefully plan and execute their transition to this technology to mitigate potential challenges and ensure maximum benefits.