Many new businesses experience difficulty in managing their finances and keeping on top of their bookkeeping responsibilities. The most common reason behind this lag is the absence of compatible accounting software to streamline several business operations. Even if you are running a small business that has just started, it is impractical to expect that everything can be done manually.
In this article, we will understand the pros, cons, and differences between QuickBooks vs Netsuite. This in-depth comparison will help you make an informed decision for your business.
Regardless of your company's reach and nature of business, you will need an efficient software program capable of automating the tedious bookkeeping tasks and organizing your finances. This is an ever-growing industry, and several dependable companies are available to offer exceptional financing solutions. However, whenever someone talks about reliable accounting software, NetSuite and QuickBooks are among the most sought-after options that come up every time. Both platforms facilitate a flexible range of features and hardware to accommodate multiple business types.
Now, the question is, which one should you choose for your business? To answer this, you need to conduct a detailed comparison of every aspect of both accounting software. Both NetSuite and QuickBooks are highly popular among small to medium-scale businesses, but they have some distinctive attributes, making them notably contrasting. A thorough analysis of these differences will determine which software is better suited for a particular job.
An Overview of QuickBooks vs NetSuite
QuickBooks provides businesses with simplified, user-friendly management solutions that can be integrated with your company's operations. It offers primary accounting services recommended for small startups. On the other hand, NetSuite accommodates the needs of fast-growing enterprises that require a robust software program for their complex business financing requirements. Sounds quite simple, right? But this discussion is not so plain-sailing.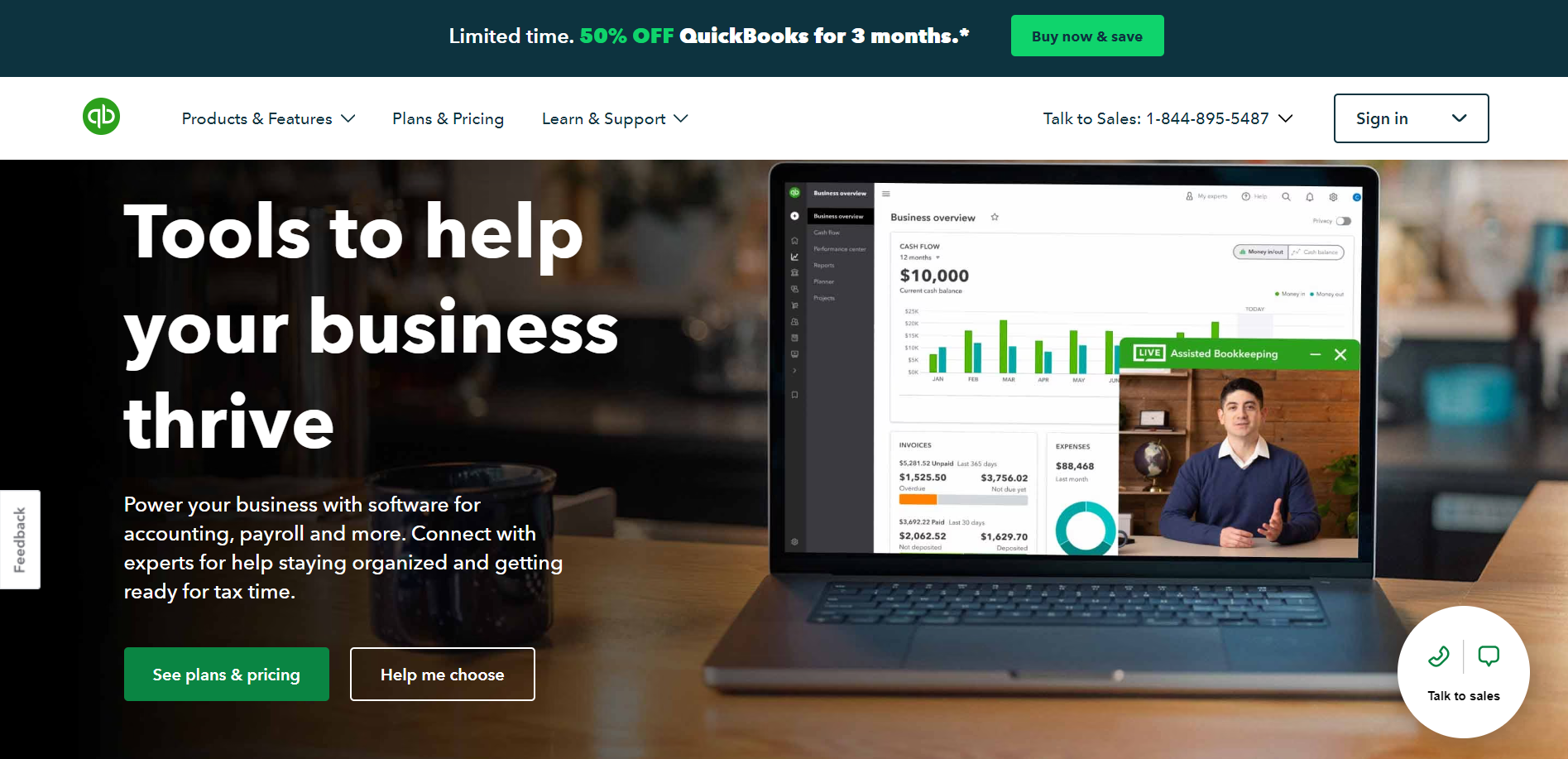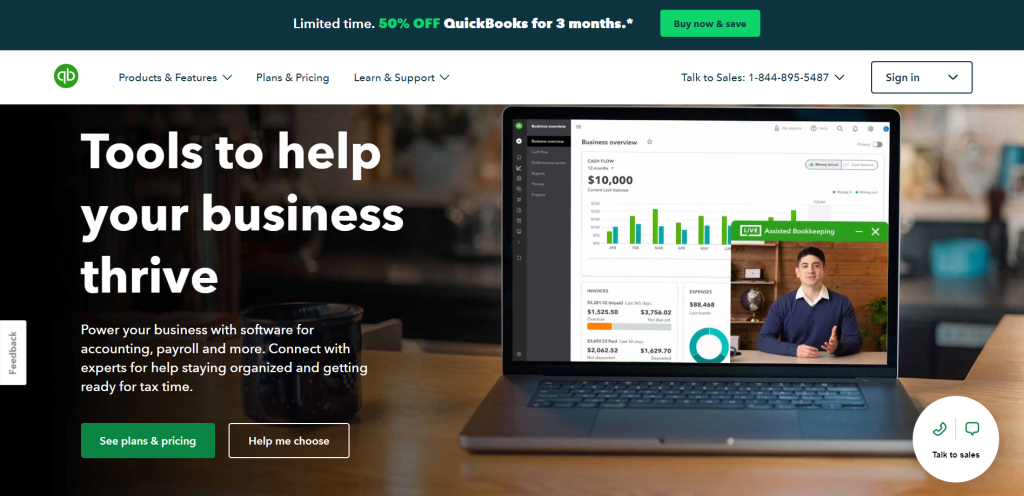 Image source
Closely inquiring about the price difference, platform features, support options, and drawbacks of NetSuite and QuickBooks will help you make a well-informed decision.
Comparison of Primary Features
Even though both Oracle and Intuit have designed exceptional bookkeeping platforms to cater to modern organizational demands, both platforms display their own set of strengths and weaknesses. Where QuickBooks is better equipped to handle growing businesses with limited user interaction, NetSuite can process a higher transaction volume and scale its features as the businesses evolve. Let's dive into QuickBooks vs. NetSuite in terms of their features and services.
Financial Management Solutions
Both software programs offer a general ledger, accounts receivable, accounts payable, and multi-currency acceptance facility. However, Oracle's NetSuite specializes in advanced forecasting and budgeting solutions along with customized financial data analysis. QuickBooks accounts receivable and accounts payable tools are comparatively simple and easy to use, while NetSuite offers better automation. Users can set payment terms and access multi-currency consolidation. Another plus point of choosing NetSuite is that you will have real-time access to your company's financial progress.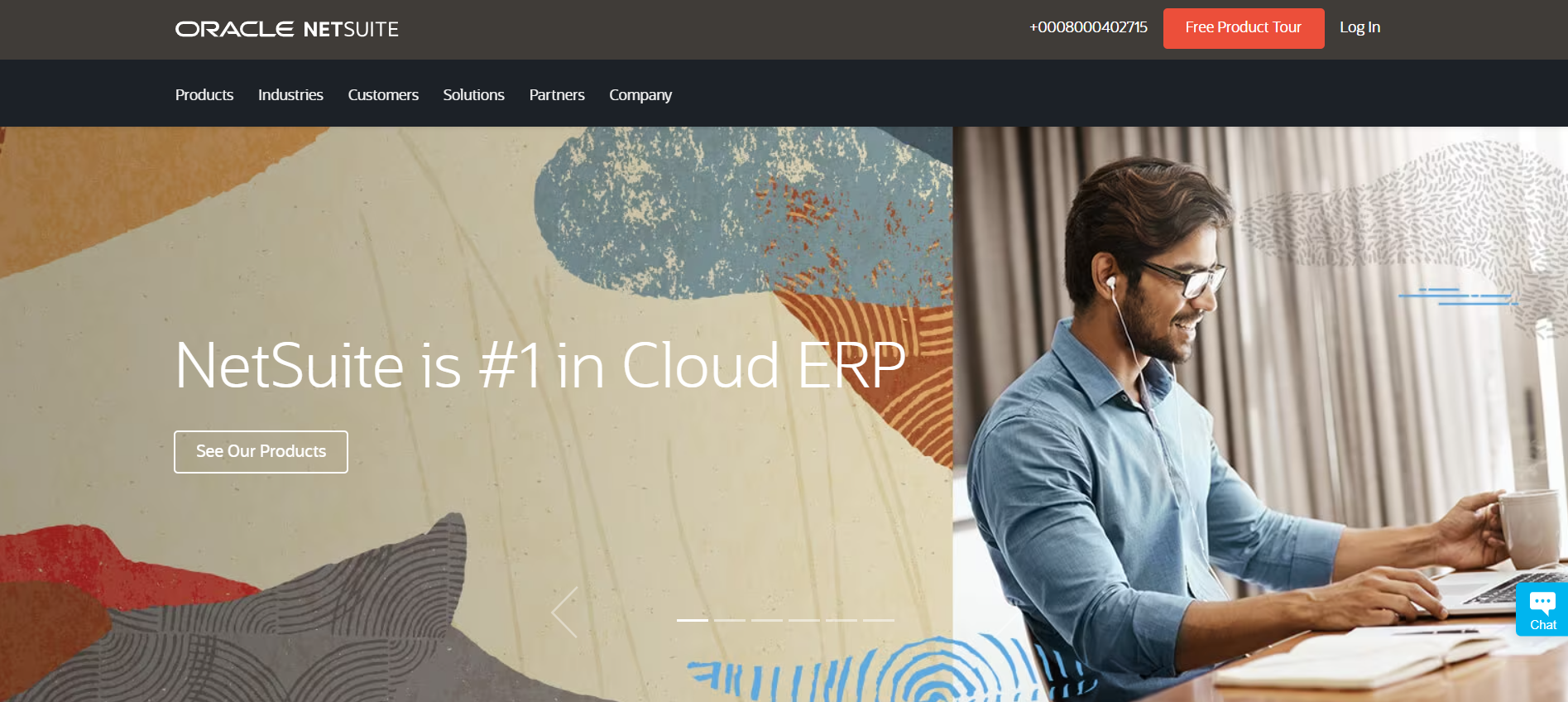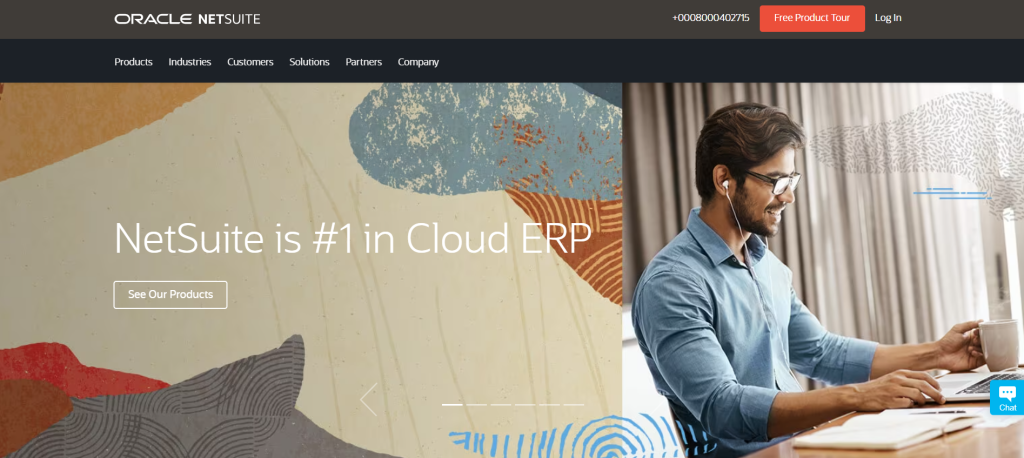 Image source
Inventory and Supply Chain
QuickBooks' warehouse and supply chain management solutions are primary and lack individual insight for each product. NetSuite purveys separate ERP modules for supply chain, inventory, and warehouse management. It allows businesses to organize their product catalog across multiple outlets and generate live reports to improve profitability. This insight enables users to efficiently handle several sales channels and be aware of their inventory counts.
Even though QuickBooks advertises order management services, they are not as extensive as NetSuite's. The latter aims to eliminate errors and inefficiencies by offering customized access to the sales team. You can allow your sales staff to manage purchased and returned orders without accessing your company's sensitive data.
NetSuite's cash management solutions offer advanced insight and cash forecasting. It enables businesses to be aware of their cash flow and make practical financial decisions based on the given insights. It also helps them avoid major setbacks by predicting potential risks and inflations.
Tax Management Features
Like most functionalities, QuickBooks offers basic-level tax management and calculation facilities that allow you to manage payroll and sales taxes. Although these services are highly appreciated, they are inadequate for a large-scale company with a high headcount and sales rate. NetSuite offers to customize reports and automate tax calculations, enabling you to manage everything according to a customary schedule.
Both QuickBooks and NetSuite provide mileage tracking that enables employers to manage their employee's mileage reimbursement for tax records.
Employee Management
QuickBooks has a built-in payroll feature that automatically generates reports based on employee data to manage payrolls. NetSuite uses third-party services to offer its payroll services. However, its employee time-tracking features are more robust and allow businesses to customize payrolls and track each employee's time off and working hours individually. Users can also access their staff's workflow sheets from multiple locations.
Professional Service Automation
QuickBooks is not equipped to facilitate PSA functionalities. Even though it offers project management features such as cost tracking and predicting revenue, it does not provide asset management tools. NetSuite advertises expenses and resource management features and allows its clients to access asset reports and manage depreciation.
Compare NetSuite vs QuickBooks Pricing
While QuickBooks offers four different subscriptions, NetSuite has no fixed pricing plan. It advertises customized pricing, making it hard to compare its rate with any other software program that maintains fixed pricing. This also comes in the way of any final verdict in terms of affordability.
An average NetSuite account costs over $10,000 a year, whereas QuickBooks Online Advanced has an annual base fee of $2,160. The other three subscription plans do not offer enhanced accounting solutions; we will only factor in the Advanced plan for this comparison. A NetSuite user's license costs $99 monthly, considerably pricier than its competitor. Contrary to QuickBooks, NetSuite charges a setup fee on top of several monthly charges.
Trial and Contract Terms
QuickBooks users are offered monthly subscription plans without binding them to a long-term contract. This provides the freedom to cancel the account at any time without being subjected to hefty cancelation penalties.
NetSuite is not so flexible in this matter. It binds clients to a year-long contract that automatically renews annually. Although it is a short-term agreement, users may face termination penalties for early account deletion.
QuickBooks offers a free thirty-day trial to new customers and a 50% discount to the ones who do not avail of the free trial. Contrary to that, NetSuite does not offer a free trial to its users. This is a significant point to consider if you prefer to 'try before buying' and want your concerns clarified before committing to a software program.
NetSuite Fee Break Down
NetSuite's pricing is categorized into four components: base package, user license, service tier, and add-on modules.
You will start with a base package, NetSuite CRM, NetSuite ERP, or SuiteSuccess. NetSuite ERP and CRM offer everything you need to manage customer relations finances. Both plans charge a basic monthly fee. SuiteSucess packages provide industry-specified facilities and have a standard and premium edition. The price ranges from a monthly $1,299 to $9,999.
The next step is to buy a software license for each user. Full-user license offers all required features, whereas self-service licenses are purchased in packs of 5, recommended for users needing limited access. This set of 5 self-service user licenses costs the same as one full-user license. You can upgrade to the premium addition to add more users.
You can add on multiple features to meet your requirements for a starting price range of $99 to $499 monthly. However, an add-on module can only be canceled on contract renewal.
A standard service tier is included in the NetSuite basic edition. You can change the tier level as per your need for a customized price.
QuickBooks Fee Structure
QuickBooks provides four subscription plans with fixed pricing. You will be subjected to a list of monthly charges in addition to the subscription fee.
$30 for Simple Start, $60 for Online Essential, $90 for Online Plus, and $200 for Advanced subscription.
Payroll management feature costs $45 to $125 per month. There is also a per-employee deduction of $6 to $10.
Monthly charges for Live bookkeeping start at $200
QuickBooks Capital has a variable rate depending on the amount of loan. The weekly APR payment starts at 9.99%
The tax support fee starts at $17.99
The average per-transaction rate for swiped and keyed-in transactions is 2.4% plus $0.25 and 3.4% plus $0.25
Invoice payments cost 2.9% plus $0.25
QuickBooks also offers several third-party integrations with variable pricing.
Upfront and Recurring Costs
QuickBooks users pay upfront subscription fees and some additional charges for support and integration facilities. The live training charges are demanded upfront as well. There are very few recurring costs generally for bookkeeping services.
NetSuite costs additional fees for customer support and integration. Most of its data migration and customization solutions require an upfront payment. The annual recurring charges revolve around software support and general optimization. Since NetSuite promotes custom pricing, there may be some annually recurring consultation charges.
Price for Value
NetSuite is armed with extensive CRM, e-commerce, and ERP solutions tailored for individual clients. It offers a single personalized plan depending on particular requirements, and its rates vary accordingly. Even though modified pricing is a plus point, it is a drawback for users who prefer knowing the exact estimate before considering a service provider.
Contrastingly, QuickBooks offers four different plans, each upgrade pricier than the last. Although most of its pricing is mentioned upfront, it lacks several advanced features easily accessible to NetSuite users. However, the overall cost of maintaining a QuickBooks account is drastically cheaper than NetSuite.
NetSuite vs. QuickBooks Support Options
QuickBooks is known for its ease of use and simplified interface. Its functionalities can be easily mastered and navigated by beginners without advanced training. Users can access tech support and live/online training during office hours. There is also a comprehensive knowledge base on the website. Local user groups are available to train users.
NetSuite software requires extensive training to navigate its intricate features. You will need proper experts and IT professionals to conduct integration and setup. Oracle facilitates 24/7 phone support and live/online training. There are online and local user groups as well as a knowledge base.
If we compare QuickBooks vs. NetSuite in terms of customer support, NetSuite takes the lead. QuickBooks offers very minimal support options that are usually insufficient for complex troubleshooting.
Compare QuickBooks vs. NetSuite User Reviews
Both software programs have 4-star reviews on multiple consumer protection websites. NetSuite with its 24 years of experience and 78% user recommendation rate. On the other hand, QuickBooks has been recommended by 81% of its clients.
In this discussion of QuickBooks vs. NetSuite, it is necessary to note that QuickBooks has been in business for 39 years with 1.8 million users. It has a large user base generally comprised of small businesses. NetSuite has a separate clientele, and its services are highly praised among large enterprises. Nevertheless, customer ratings are more or less the same for both software.
When Should You Choose QuickBooks?
While both accounting software are efficient in their ways, both have their drawbacks and only one can be compatible with a particular business. QuickBooks offers a series of easy-to-use solutions that can be synced with your company's operations. It is recommended if you prefer a consumer-friendly platform and do not want to learn advanced technicalities.
This software program offers a month-to-month contract with a moderate subscription rate and zero cancelation fee. It is especially suitable for businesses searching for an affordable option to manage basic accounting and bookkeeping responsibilities. Freelancers and self-employed contractors can benefit from its uncomplicated interface and proficient invoicing capabilities.
Unfortunately, this cannot be said for NetSuite because of its complex features and expensive rates. Moreover, Oracle's NetSuite demands highly expert accountants and bookkeepers to keep up with its technicalities. Since QuickBooks has a higher user base, it is easy to find accountant support for its software. Contrastingly, NetSuite has about 30,000 clients. Most firms prefer training their accounting talent for popular software demanded by more clients. It is tough to find experts for NetSuite's extensive software.
You should note that NetSuite does not offer the flexibility to cancel a service in the middle of its one-year agreement. If you want to downgrade from a plan, you are bound to wait for the contract renewal date. QuickBooks is easygoing in this matter. There is no fixed contract. You can upgrade or downgrade from a subscription anytime. Furthermore, NetSuite does not have batch invoices and built-in payroll capabilities. It does not offer a free trial, and its pricing is not transparent.
How is NetSuite Better Than QuickBooks?
Even though QuickBooks is the comfort zone of many small startups, it is not equipped to satisfy the needs of a growing business. It cannot process a high transaction volume and only offers user access for up to 40 people. QuickBooks facilitates primary accounting solutions, and its users depend on several third-party accounting services to access advanced features. Its e-commerce and retail functionalities are substandard. They lack order management and marketing automation.
In this debate of QuickBooks vs. NetSuite, you should note that most QuickBooks apps are outdated and need improvement. Some of its services are discontinued, causing havoc for old customers. Users face difficulties in boosting their sales and taking calls after order confirmation. QuickBooks support options forbid multi-tasking and real-time interactions with customers. It does not offer multi-subsidiary support and purveys restricted billing and project management capabilities.
NetSuite is a complete package for companies that require industry-specific subscriptions. It offers tailored solutions to help you manage every aspect of your business operations without depending on third-party services. You can benefit from unlimited user access and the flexibility to process high transaction volume. NetSuite offers custom dashboards, allowing you to give restricted access to each employee according to their role. This way, you can manage your business without sharing sensitive information with your staff.
NetSuite allows users to inactivate unnecessary modules and avoid operational and cost errors. It is an exceptionally reasonable option for fast-growing enterprises that need equally competent features to support their complex business infrastructure and intricate bookkeeping needs.
Final Words on NetSuite vs. QuickBooks
To answer your question, 'Is NetSuite better than QuickBooks?': Yes. It is in many ways. However, this strictly depends on the nature of your business plus the severity of its demands. QuickBooks has been in business for years before NetSuite was even introduced. It is still the go-to software program for small-scale companies. NetSuite does not have that many years of experience to boost, and it is still relatively less popular among clients.
However, its high-tech features and well-equipped services make up for its lack of fame.
That being said, NetSuite is highly recognized among large-scale companies for offering exceptional integrations and financial management modules. Its features can be scaled as your requirements change to help you reach higher goals without setbacks. This way, you can stick with one software program for years without looking for a better option.
It should be noted that in some cases, a business may outgrow QuickBooks Online Plus, and NetSuite might be an overkill. For such instances, QuickBooks Online Advanced can be just the right fit for your company. Considering this, you should carefully determine your company's exigencies and make the right choice.