Fleet cards, also known as fuel cards, are a type of payment card that allows drivers to pay for fuel and maintenance for company vehicles. These cards are typically issued to businesses with multiple vehicles, also known as a fleet, and offer a range of features that help business to manage their vehicle expenses. Fleet cards can be used at specified gas stations, service stations, and sometimes for other vehicle-related costs.
How Fleet Cards Work?
Fleet cards work by providing businesses with a convenient and centralized method for managing fuel expenses for their fleet of vehicles. Here's how fleet cards typically work:
Application and Account Setup:
To obtain fleet cards, businesses apply to a fleet card program offered by a fuel company or financial institution. The application process involves providing information about the business, fleet size, and other relevant details. Once approved, the business is assigned an account with the fleet card provider.
Card Issuance:
The fleet card provider issues physical or virtual card details associated with the business's account. These cards are typically assigned to specific drivers or vehicles within the fleet.
Fuel Purchases:
Authorized drivers use fleet cards to purchase fuel at designated stations. The cards are swiped, inserted, or tapped at the fuel station's point-of-sale terminal, similar to a credit or debit card transaction.
Transaction Processing:
When a fleet card is used for fuel purchase, the transaction details are captured by the fuel station's system and sent to the fleet card provider for processing. The provider verifies the transaction against the available funds or credit limit in the business's account.
Payment Settlement:
The fleet card provider settles the payment with the fuel station on behalf of the business. The business is then invoiced for the fuel purchases using the fleet cards. The fleet card program's terms and conditions typically outline the payment terms and billing cycles.
Expense Tracking and Reporting:
The fleet card program provides businesses with detailed transaction data for each fuel purchase made with the fleet cards. This includes the date, time, location, and amount spent. The transaction data is compiled into reports, which help businesses track fuel expenses, monitor fuel consumption, and analyze spending patterns.
Account Management:
Businesses can manage their fleet card accounts through online portals or mobile apps provided by the fleet card program. These platforms allow businesses to view transaction history, set spending limits, manage card assignments, and access reporting and analytics tools.
It's important to note that fleet cards' specific processes and features can vary among providers and programs. Some fleet card programs may offer additional features like spending controls, discounts, rewards, integration with fleet management systems, or supplementary services like maintenance and repairs. Businesses must review the terms and conditions of the chosen fleet card program to understand how it works explicitly and what features are available.
Features of Fleet Cards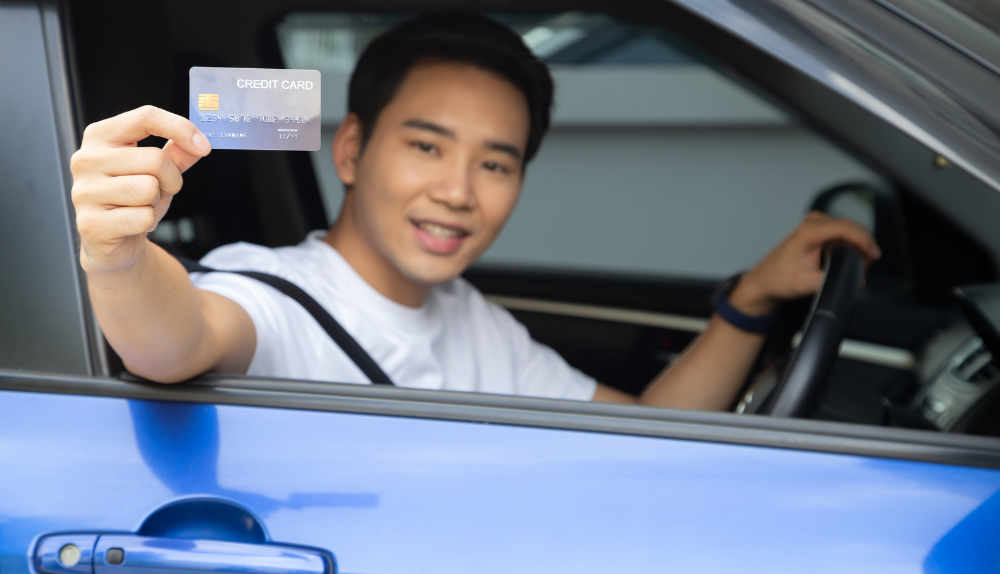 Fleet cards offer a range of features that cater to the particular needs of businesses with fleets of vehicles. Here are the common features you can expect from fleet cards:
Purchase Control
One of the key features of fleet cards is purchase control. This allows businesses to set restrictions on what the cards can be used for. For instance, a business might limit a card's use only to fuel purchases or certain types of maintenance. Some cards even allow businesses to restrict usage to specific locations or certain times of the day. This level of control helps businesses manage their fleet expenses more effectively and prevents misuse of the cards.
Reporting and Analytics
Fleet cards often come with reporting and analytics tools that provide businesses detailed information about their fleet expenses. These might include data on how much is being spent, where and when purchases are being made, and which drivers are making the purchases. This information can be valuable for identifying trends, spotting potential issues, and making informed decisions about fleet management.
Fraud Protection
Fleet cards typically offer robust fraud protection features. These may include real-time alerts for unusual activity, the ability to instantly deactivate a misused, lost or stolen card, and protections against unauthorized charges. Some cards also use secure technology, such as chip and PIN, to protect against fraudulent transactions.
Integrated Billing
With integrated billing, all purchases made with a fleet card are billed directly to the company, simplifying expense management. This eliminates the need for drivers to submit expense reports or for the company to reimburse drivers for out-of-pocket expenses. Instead, the company receives a single, itemized bill that makes it easy to see precisely what is being spent on fleet expenses.
Benefits of Using Fleet Cards
Using fleet cards can offer several benefits to businesses with a fleet of vehicles. Here are some key advantages of using fleet cards:
Cost Savings
One of the primary benefits of fleet cards is the potential for cost savings. Many fleet cards offer discounts on fuel purchases, adding significant savings for businesses with large fleets. Additionally, the detailed reporting provided by these cards can help businesses identify wasteful spending or inefficiencies that can be addressed to reduce costs further.
Simplified Administration
Fleet cards simplify the administration of fleet expenses by consolidating all expenses into a single account. This abolishes the need for drivers to keep track of receipts or submit expense reports and reduces the administrative burden on the business. The company receives a single, itemized bill that includes all fleet expenses.
Increased Control over Fleet Expenses
Fleet cards offer businesses increased control over their fleet expenses. This is achieved through the ability to set purchase controls, limit card usage to specific types of expenses or locations, and monitor spending in real-time. This level of control can help businesses manage their budgets more effectively and prevent misuse of the cards.
Enhanced Transparency and Accountability
With fleet cards, businesses can access detailed information about every purchase made. This provides transparency that can be difficult to achieve with other payment methods. It also creates greater accountability, as businesses can quickly identify which driver made each purchase. This can discourage inappropriate spending, and help enterprises ensure their fleet resources are used effectively.
Potential Drawbacks of Fleet Cards
While fleet cards offer several benefits, there are also potential drawbacks that businesses should consider. Here are some common disadvantages associated with fleet cards:
Possible Misuse
While fleet cards offer purchase controls to prevent inappropriate spending, there is still a potential for misuse. For instance, drivers might use the cards for personal purchases if the controls are not set up correctly or if they find ways around the restrictions. This can lead to increased costs and administrative headaches for the business.
Increased Administration in Case of Large Fleets
While fleet cards simplify administration, they can also create additional administrative work, particularly for large fleets. Businesses must manage the distribution of cards, monitor spending, set and adjust purchase controls, and address any issues or disputes. This may drain time and money, especially if the company lacks a professional fleet manager.
Vendor Restrictions
Some fleet cards are only accepted at specific locations or for certain purchases. This can limit the flexibility of drivers and potentially cause inconvenience. Drivers may need to pay cash and then request reimbursement if they cannot use their fleet card at a particular place, which might add to the administrative burden. Additionally, businesses may not be able to take advantage of the best prices or preferred vendors if those vendors do not accept their fleet cards.
Choosing a Fleet Card Program
It's key to consider several variables when selecting a fleet card programme for your company to make sure it matches your unique demands and goals. Here are some key points to consider:
Understanding Business Needs
The first step in choosing a fleet card program is understanding your business needs. This involves determining how many vehicles you need to manage, what purchases they will make, how much control you want over these purchases, and what reporting capabilities you require. Understanding these elements can help you discover the most informative features of a fleet card program.
Research Fleet Card Providers:
Conduct thorough research to identify reputable fleet card providers with programs matching your requirements. Consider factors such as network coverage, acceptance at preferred fuel stations, available features, fees and costs, customer support, and any additional services or benefits provided.
Comparing Different Providers
Once you understand your business needs, you must compare different fleet card providers to see which ones offer the features that align with these needs. This might involve looking at their discounts and rewards, the locations where their cards are accepted, the controls and protections they provide, and the quality of their reporting tools. It would be perfect if you also considered the provider's reputation and the quality of their customer service.
Evaluating the Terms and Conditions
Consider the terms and conditions carefully before deciding on a fleet card program. This includes understanding any fees associated with the card, how the billing process works, and what liabilities the business assumes. Additionally, pay attention to any requirements or commitments the business must meet to qualify for certain benefits or discounts. You may avoid unpleasant issues in the future and ensure the programme you select is a good fit for your company by being clear about these specifics.
Contact Providers and Apply
Once you have shortlisted a few suitable fleet card programs, contact the providers directly to gather more information. Discuss your needs, ask specific questions, and seek clarification on terms and conditions. The providers will guide you through the application process and provide the necessary forms or online application links.
Card Activation and Distribution
Once your application is approved, the fleet card provider will issue the fleet cards to you. Activate the cards following the provided instructions. If applicable, distribute the cards to the authorized drivers or vehicles within your fleet.
Remember that the specific steps and requirements may vary among fleet card providers. Following the chosen provider's instructions and maintaining direct contact with them throughout the application process is advisable.
Why May Businesses Need Fleet Cards?
Businesses may need fleet cards for a variety of reasons. Firstly, they streamline the management of fleet-related expenses, eliminating the need for drivers to use personal cards or carry cash for fuel and other expenses.
Fleet cards also provide businesses with increased control over their fleet expenses. They can set restrictions on what the cards can be used for, limit usage to specific locations or times, and monitor spending in real time. This level of control can help businesses prevent misuse and manage their budgets more effectively.
The detailed reporting and analytics offered by fleet cards also provide valuable insights into fleet expenses, helping businesses identify trends, spot potential issues, and make informed decisions. They can help highlight inefficiencies, such as unnecessary fuel consumption or unapproved purchases, allowing for better cost management.
Moreover, fleet cards often offer cost-saving benefits like discounts on fuel purchases, which can add significant savings for businesses with large fleets.
In essence, the need for fleet cards arises from businesses' ability to effectively manage, control, and monitor their fleet expenses while simplifying administrative processes and potentially achieving cost savings.